Stars Flicker in a Winter Sky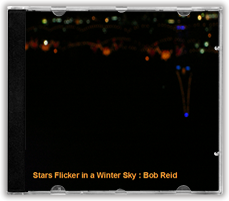 "Stars flicker in a winter sky and the one star shines down", as it did on that first Christmas day. Kings and Shepherds followed that star to where the baby lay. His light still shines today. As once again we rush toward Christmas – remember on the 25th of December – it's His birthday.
In a year where storm clouds have often gathered black – His light remained shining bright – these songs are once again dedicated to Phyllis – "Always a friend"
Bob Reid: December 2009

Songs available for download (click on the page to view the lyrics):
All songs written and performed by Bob Reid. Recorded and Produced by Dug Wolfsohn @ Infernal Machine Recording Studios July to November 2009
©2009: Bob Reid