More a Poet than a Balladeer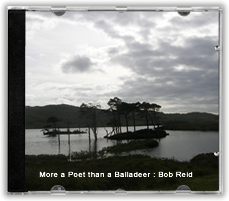 "More a poet than a balladeer": certainly it is the way with most of these songs that the words came before the tune. Poetry writing began years ago, a teenager trying to explain how he felt. In the years between music filled the creative space, mostly, until recently, on a keyboard with instrumentals being at the fore and achieving some recognition in the UK Song Writing Contest with finalist and semi finalist positions.
A Christmas gift in 2006 brought guitar lessons and at last some little ability to play the instrument. So words and music came together and an attempt to sing my songs developed. I hope the poetry is not too compromised by the rough guitar and stretched vocal. A poet still trying to tell short stories.
Thanks to Dug at Infernal Machine Recordings for being patient through the recording of these tracks. The chorus of "Whisper my name in your heart" comes from the poem "Autumn" by Florence Hoatson, the words given to me in a school painting by my daughter. I hope I have done some justice to the muse.
This album is dedicated to the family: Simon, Charis and Phyllis for putting up with the strange noises Dad makes with the guitar.
Love you all.
Bob Reid: "More a poet than a balladeer" - Summer 2008

Songs available for download (click on the page to view the lyrics):
All songs written and recorded by Bob Reid. "Whisper My Name In Your Heart" based on the poem "Autumn" written by Florence Hoatson. Recorded and Produced by Dug Wolfsohn @ Infernal Machine Recording Studios January to June 2008
©2008: Bob Reid